Brakes are a major component of your 4WD's safety system allowing you to stop, slow down and also remain stationary when parked. So, its important that you keep your brakes in good working order.
At Ontrack Automotive, we do a free brake check when we service your 4WD, however if you at any time experience any of the following symptoms, it's time to book in for a brake service ASAP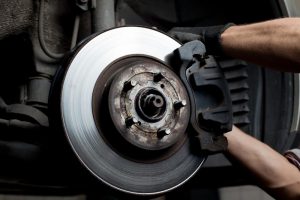 A spongy peddle
A peddle hard to push down
Hear grinding or squealing
Pulling to one side when braking
The brake warning light comes on
Because there's more to brakes than the pads, our qualified and experienced mechanics perform a comprehensive assessment on the entire braking system and report on any service or repair requirements.
We use only quality brake parts and components to ensure safety and longevity. Quality brands like Bendix 4WD brake pads and DBA slotted brake rotors are leaders in the automotive industry