Ironman Under Body Protection
Ironman 4×4 protection plates perfectly integrate to your vehicles design with carefully positioned venting and water dispersion holes. This protects the key components without compromising airflow and durability.
Off-road driving exposes your vehicle to damage from various obstacles such as rocks, logs, bumps and scrapes, particularly prevalent in vehicles with low ride height or independent suspension.
Underbody protection plates are commonly relied upon off-road as a layer of armour underneath your 4×4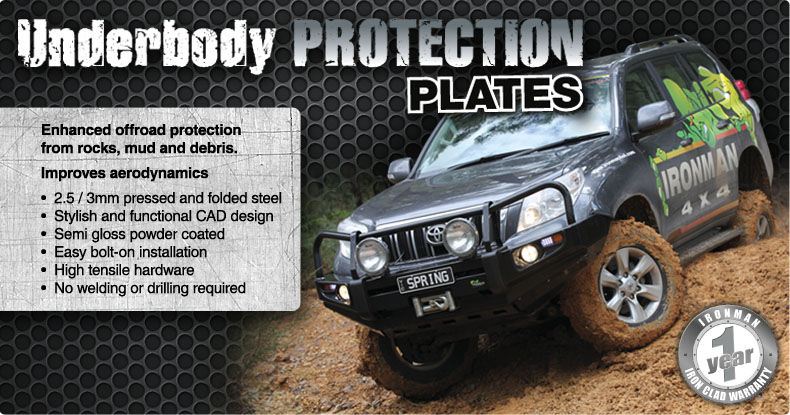 ironman

Underbody Protection Plate Availability for

Underbody Protection
Fuel Tank Protection

 

 

Underbody Protection
Fuel Tank Protection

Ford Ranger PJ-PK 2007-2011

x

 

Nissan Navara D22

x

 

Ford Ranger PX 2011+

x

x

Nissan Navara D40

x

x

Holden Colorado RC 2008-2012

x

 

Nissan Patrol GU S1-3 1998-2004

x

 

Holden Rodeo RA 2002-2006 & RA7 2007-2008

x

 

Nissan Patrol GU S4+ 2005+

x

 

Isuzu D-Max 2007-2011

x

 

Range Rover Sport 2005-2013

x

 

Land Rover Discovery Series 3 2004-2009 & 4 2010+

x

 

Suzuki Grand Vitara 2005+

x

 

Mazda BT50 2006-2011

x

 

Toyota FJ Cruiser 2006+

x

 

Mitsubishi Pajero NM-NP 2000-2006, NS 2006-2009, NT 2009-2011 & NW 2011+

x

 

Toyota Hilux 2005-2011+

x

 

Mitsubishi Triton ML 2006-2009

x

x

Toyota Landcruiser 200 Series 2008-2011

x

x

Mitsubishi Triton MN 2009+

x

 

Toyota Prado 120 Series

x

 

 

 

 

Toyota Prado 150 Series

x

x

 

 

 

Volkswagen Amarok 2010+

x